There are tears in his wife's eyes as Thomas Curran takes a seat in the Carrickfergus branch of Hidden Hearing to receive his brand new hearing aids.
Rhona is crying with happiness because her husband, who is also her full-time carer, has been awarded the devices free of charge under the Hidden Hearing GiveBack scheme.
"This means so much to both of us," she explains.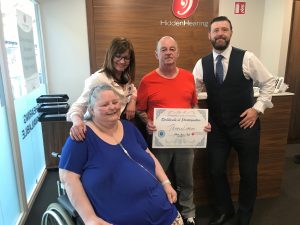 Rhona is confined to a wheelchair as she sufferers from several serious ailments including COPD and diabetes.
Devoted husband Thomas cares for her 24/7 but his hearing problems were proving difficult for the family.
He explains: "When Rhona calls out for help and I am in a different room or in the back garden, it is impossible for me to hear her.
"This is especially difficult at night-time, because she has to shout so loudly to wake me that our 17 year old son Joseph wakes up too.
"So there has been a lot of shouting in our house!"
That is no longer the case, a delighted Thomas assures me when we chat a couple of weeks later.
"I'm over the moon with my new hearing aids and the difference they have made to our lives," he says.
"Now I never have to worry about something being wrong with Rhona because I can hear her no matter where I am in the house or garden."
In the background, the couple's two cute Chihuahua dogs Miss Twiggy and Miss Fudgy are yapping away.
"Ach aye, I can hear them barking very clearly now," laughs Thomas. "I can even hear their paws on the kitchen floor!"
Hearing problems have been a part of Thomas' life since he was a teenager but he only worked up the courage to visit his local Hidden Hearing clinic in recent months.
"I'm 53 now but I've had hearing loss for a long time, probably since I was  16 or so," he reveals.
"But I had this image of hearing aids as being big, bulky, ugly things and I just did not want one.
"Now I realise that the latest devices are almost invisible in your ears. I could not be happier with them."
Thomas is very grateful to Patrick and Claire at Hidden Hearing Carrickfergus for nominating him for the Giveback scheme.
"Just being able to chat normally to people is brilliant.
"I'm sure some folk thought I was rude before because it looked as if I was ignoring them when, in fact, I had never heard them in the first place!"
Best of all, Thomas says the family home is a far more relaxed and peaceful place these days.
"There's no more shouting!" he laughs. "My new hearing aids have seen to that!".
To book your free hearing test call 0800 085 95 50 today or click here.