AS she cuddled her gorgeous newborn son, Annalise Downey felt grateful that her pregnancy and labour had gone so well. But a few days later the first-time mum realised something was very wrong with her hearing. "My ears felt like they were full of wax and needed to be syringed," recalls Annalise (23). "At the time I was so busy looking after my new baby that I just shrugged it off. "When things didn't improve, I eventually went to the GP and had my ears syringed." Annalise's hearing loss did not correct itself but the young mum's own health was put on the backburner as she juggled raising baby son Jaxx with her job as a care assistant.
Then, almost two years ago, the east Belfast woman became pregnant again. "Just like my first pregnancy, everything was normal and I gave birth naturally with no complications," she reveals. But Annalise got a terrible shock as she held baby Jaydon in her arms for the first time
and chatted to the midwives. "I could hardly hear what they were saying. I was no longer just partially deaf, this was severe hearing loss.
"I was absolutely devastated." Annalise knew she needed specialist help but found herself being fobbed off by the NHS at every turn.
"I just could not get a hospital appointment. My health visitor tried her best to help me but I kept getting told I was not a priority. "A letter came saying I should expect to wait two years before being seen. How was I supposed to cope in the meantime?" Annalise recalls dialing an
NHS helpline and crying her eyes out down the phone. "They told me I was not an emergency case because my condition was not life-threatening. But how could they say that when I had two little babies to look after?
"My sons could be choking, falling out of the bed or crying for help and I would not be able to hear them. "I think that should be classed as life-threatening." Fortunately, Annalise shares a home with her mum Karen, who has always been a huge support. "My mummy does my hearing for me, it's as simple as that. I feel guilty that she often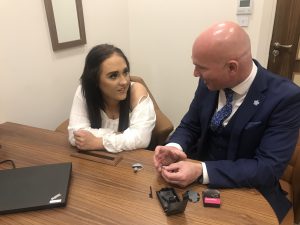 gets up in the middle of the night because the boys have woken up but I just don't hear them." An added complication for Annalise is that Jaxx (3) has a speech development delay. "It's a nightmare not being able to help him with his words. I can't even enjoy a proper conversation with him." Annalise says her hearing loss not only affects her relationship with Jaxx and Jaydon (11 months) but is also having an impact at work. "I'm employed as a carer so being able to communicate well is an important part of the job." Frustrated at the lack of help from the NHS, Annalise went online and purchased a cheap hearing aid from Amazon. "It's all I could afford but it's pretty useless, to be honest. And I can only wear it for short periods of time because
it's so big, it hurts my ears. "But I had no other option." Last month Annalise decided to visit Hidden Hearing clinic in High Street, Belfast,
as it offers free hearing tests. "They examined me and I tried out a pair of hearing aids. "I'll never forget what happened next. I could hear normally again. It was incredible. "My mum was with me and we both started crying. It was a very emotional moment." Although Annalise was not in a financial position to purchase the high-tech devices, she received a very pleasant surprise.
"Hidden Hearing has a Give Back scheme where they nominate deserving people for free hearing aids and the Belfast branch put my name forward," the young mum said. "I'm so excited. We're going to collect them tomorrow."
Annalise will share her special day with Daniel O'Donnell, who is going to be in the Hidden Hearing Belfast clinic as the branch celebrates its 20th birthday. Daniel told the Sunday World: "As a professional singer, I am acutely aware of the importance of looking after my hearing." Daniel is inviting fans to come along for a "chat and a slice of cake" during a meet and greet at 54 High Street at noon tomorrow. While Annalise is looking forward to being able to hear again, she is still waiting for a definitive diagnosis. "There is a very rare condition called otosclerosis that affects your hearing and can be triggered by pregnancy. "But until I see an expert and get a CT scan, I just don't know for sure what the problem is and if my hearing can be restored."
Annalise has finally been promised an appointment with a specialist within months rather than years. "My fear is that by the time I get a hospital appointment, it might be too late for corrective
surgery and I will be left with permanent hearing loss. "I'd advise any woman in the same situation as me to seek help as quickly as possible."
Book your free hearing test today and start your journey to better hearing. Click here or call 08000859550 today!
Above as shown on the Sunday World Newspaper 18th Sept. Writer credits: Moira Hannon