H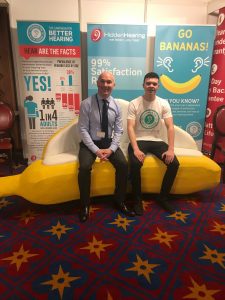 idden Hearing had a wonderful time at the 50 Plus Expo 'Back to the Past' event in Belfast on Friday 16th and Saturday 17th February 2018. The event was situated in the world-renowned Titanic Museum, which we thought was a magnificent location for the show. The 'back to the past' event was centered around genealogy, did you know hearing loss can be hereditary? Click here to to read more about the connection between your genetic make-up and hearing loss.
Our team present on the day would like to say a big thank-you to everyone who came to visit our stand, easily recognisable by our huge banana sofa!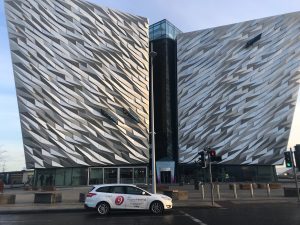 Our friendly staff members were present and eager to use their expert knowledge to answer everyone's hearing healthcare questions. Our free Hidden Hearing goodies went down a treat with the events attendees, they couldn't get enough! Our hearing aid audiologist from Hidden Hearing Belfast, Darren McKeown was present on the Friday, and hearing aid audiologist, Kathryn Woodside from Hidden Hearing Carrickfergus was there on Saturday. Both hearing healthcare professionals were on hand to provide free hearing screenings and were happy to share advice and provide support to anyone who requested it.
We were also there supporting the Campaign for Better Hearing. The Campaign for Better Hearing is an initiative that aims to educate people about hearing health and the dangers of untreated hearing loss, and to provide a free hearing screening to every person over the age of 50. Hearing loss is shockingly prevalent across Northern Ireland. According to Empathy Research, almost 1 in 4 adults in Northern Ireland suffer from at least a mild hearing loss and this rises to 1 in 3 by the age of 65.
To support the Campaign for Better Hearing simply click here to book your free hearing test in any of our many state-of-the-art clinics in Northern Ireland.